Call Center Outsourcing in the Philippines: Why Customer Experience Matters
Companies need more than exceptional goods and services to attract and keep consumers in today's hyper-competitive global economy. In addition, they must provide attentive, rapid, and highly individualized interactions. Customers nowadays want to feel taken care of. They want to know that a corporation recognizes and values their desires, needs, and concerns.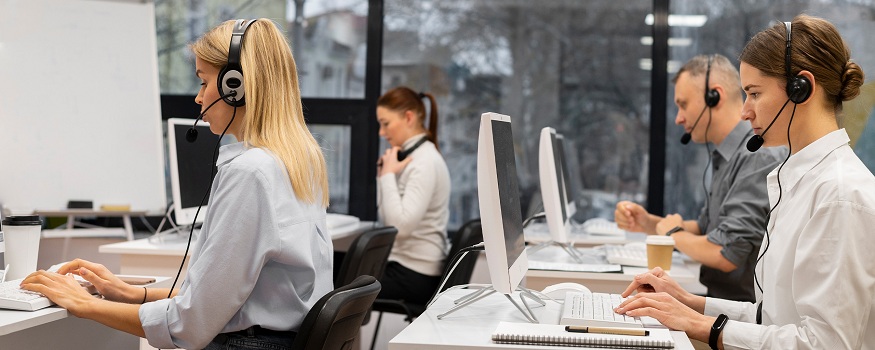 What is the Definition of Customer Service?
Simply said, customer service is the support that a business delivers to present and potential consumers. In-person, phone, email, chat, and social media contacts are popular ways for customer support workers to answer inquiries and address problems. Customer service occurs everywhere businesses and consumers collide.
Companies are increasingly outsourcing core business activities like call centers to offshore suppliers to guarantee they offer dynamic, proactive, and memorable client experiences. And these days, they are resorting to the Philippines, the world's top contact center outsourcing location.
Why Does Customer Service Matter?
The Philippine BPO business has long been noted for its ability to minimize operational overhead. However, the country's outsourcing business offers numerous characteristics that significantly boost client experiences. Here are four examples:
Improves Collaboration
Outsourcing organizations may provide 24/7 customer service to their worldwide clientele by collaborating with call centers in the Philippines. Call center services in the Philippines often work multiple shifts. Customer inquiries and complaints may be addressed by teams working around the clock at any time of day or night, including weekends and holidays. Timely availability may considerably boost customer satisfaction and retention by drastically increasing the quality of service.
Enhance Trust
Agents in the Philippines speak proficient English with a neutral accent, two characteristics that promote satisfying client interactions. The Philippines is the world's third-largest English-speaking nation, with more than 70% of the population proficient in the language. Because the majority of customers are from the United States, the United Kingdom, Australia, and Canada, English fluency provides a considerable competitive edge to the country's outsourcing business. Customers are more likely to trust a firm when they can speak simply and successfully with contact center personnel.
Develop Connections with the Clients
Filipinos are recognized for their friendliness, hospitality, strong work ethic, and intuitive sense of loyalty – ideal attributes that may considerably improve the customer experience. Philippine contact center agents bring these similar characteristics to the workplace, as well as patience, a customer-centric work attitude, and a strong empathy for client needs. Empathy assists agents in developing connections with clients, making them feel as if their wants and worries are important.
Improve Customer Loyalty
Automation and artificial intelligence are progressively being integrated into the business plans of premium contact centers and BPO companies.
AI can automate easy jobs, leaving agents available to address more complicated consumer concerns that only a person can manage. Inbound call center services in the Philippines are seeing gains in key metrics like response times and first-call resolution thanks to AI. This improves customer loyalty.
Reasons Why You Should Outsource Contact Centre to the Philippines
Here are some of the top reasons that make the Philippines outsourcing hub:
Low-Cost Alternative
Many company owners are astounded by how inexpensive it is to outsource your customer support staff. While you may believe that handling things in-house saves you money, consider how much time and money you might save if a contact center handled those problems for you.
Outsourcing eliminates the need for office space, equipment, and employee benefits. This advantage translates into cost savings, which has a significant influence on your bottom line. Furthermore, not only will you save money, but many outsourced solutions are of higher quality than those managed in-house.
High Level of Education
Filipinos have a higher level of education than many other Southeast Asian nations, with at least a high school diploma and some college degrees. Since of this background, employing Filipino customer service agents is less expensive and more accessible for your organization because they would be conversant with a wide range of issues in their industry. The nation also has a low unemployment rate, which means there are plenty of individuals available to fill these roles if they become available.
Availability Around-the-clock
You can provide 24-hour customer assistance by using call centers in nations such as the Philippines. It is also likely that they will work during your off-hours. This aspect saves money while increasing customer satisfaction by guaranteeing that your clients always get assistance when they need it.
Outsourcing is a big part of the Philippines' booming economy, and it's culturally acceptable to work a reversed schedule that includes occasional evenings and nights instead of the conventional 9 am to 5 pm. This schedule is difficult to replicate in the United States, where different schedules are not the norm and firms struggle to provide 24/7 client service.
Conclusion
The planet has shrunk significantly. Several years ago, you could only contemplate outsourcing your contact center services to a few chosen nations. There are several solutions available nowadays. When it comes time to make your outsourcing choice, whether it is for a contact center or other business support operations, we recommend that you keep these top six reasons in mind.