Creative and Stylish Headboard Ideas
You must opt for a headboard for your bed. It is a crucial part of your bedroom decor as well. Besides elevating the aesthetic beauty of the space, a headboard will add functionality to the space as well. Moreover, there are various types of headboards available in the market. Look for an option that will completely change your dull bedroom into a stylish space. In case you are not sure about the type of headboard design you should choose for your bedroom decor, here are a few creative ideas you can consider: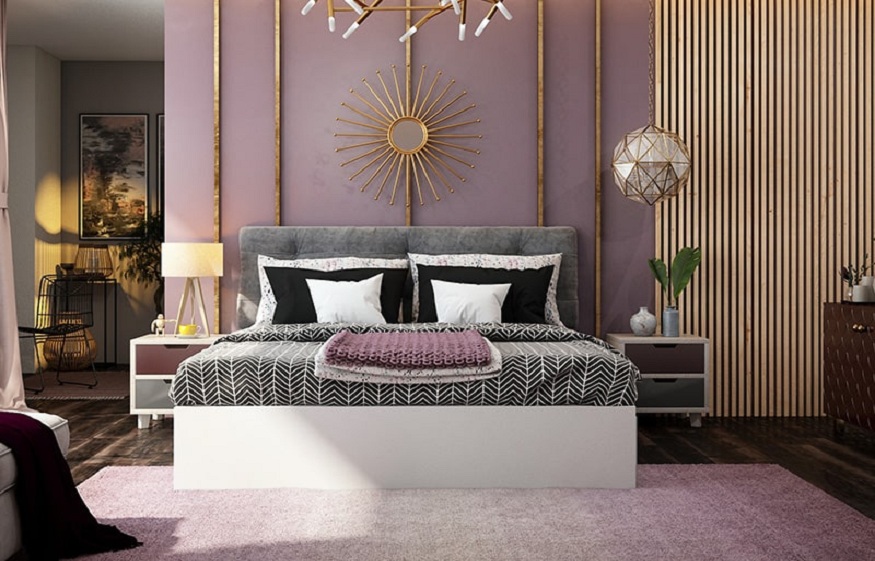 01 of 06 Give a rustic feel with a wooden headboard
When thinking of a headboard design for your bed, one of the first things that will come to your mind is a wooden headboard. Wooden headboards are one of the most popular options. People love them because of the elegant and rustic feel they add to the bedroom design. It will instantly convert your bedroom into an inviting and warm space where you will feel comfortable. Its versatile look makes it a great option for both traditional and modern spaces. Besides the aesthetic beauty, wooden headboards are preferred for being a durable and sturdy option. You do not have to worry about your wooden headboard getting damaged. However, always keep in mind that it might not feel as comfortable as a cushioned headboard when you lean against it.
02 of 06 Introduce luxury with velvet upholstered headboard
Do you want to give your bedroom design a luxurious appeal? Consider investing in a quality upholstered sofa. People love this option because of its elegant and sophisticated look. You can make any dull bedroom stylus with a velvet upholstered sofa. They have padding with fabric stretched over, giving the headboard a pillow-like effect. Further, this padding ensures you feel comfortable when you lean against the headboard while watching TV or reading a book. Just make sure that you choose a colour that complements the rest of your bedroom. However, it is a bad idea to choose velvet if you have furry animals in the house. Also, people with dust allergies should avoid velvet as it can trap dust.
03 of 06 Choose an artistic headboard
People who love to paint or sketch can choose to display their artwork in the form of a headboard. If you have beautiful artwork at home, you should display them. Otherwise, you can put your creative side to use and come up with interesting artwork that will complement the theme of your bedroom. Buying artwork from stores is an option as well if you do not have free time. Just make sure that you choose a slightly shorter headboard for your bed. As a result, you will be able to lean against the headboard while ensuring that your artwork stays highlighted. Also, it can be a great conversation started when people visit your bedroom.
03 of 06 A headboard with storage
If you live in an urban city, the chances are that your home design is quite small. You might find it difficult to accommodate everything in your home without making the space feel cluttered. This is why choosing smart storage solutions is crucial. One of the best ways to create additional storage space without a lot of free space is by choosing a headboard with storage. You can easily find headboards for beds with different types of storage options. Depending on your preferences, you can choose a headboard with open storage or closed storage. However, if you want to add more style to your bedroom design, look for a headboard with open storage options. It will allow you to keep your items displayed. Books, small indoor plants, photographs, etc. are a few items you can keep displayed on your headboard.
04 of 06 Create a lavish look with a tufted headboard
There are lots of different options that can make your bedroom interior design appear luxurious. A tufted headboard is one of the common options people choose for a luxurious appeal. Small tufts are made on the headboard by pulling the fabric tightly at different places and stitching them together. Its opulent appearance gives your bedroom design an extravagant look. Moreover, you can use this type of headboard in various home designs. and fits in perfectly with every style of interior design and decor. The extra cushion provides additional comfort when you lean against it as well.
05 of 06 A floor-to-ceiling headboard
Want to give your bedroom interior design a grand appearance? You can consider choosing a floor-to-ceiling headboard design. It will make any boring bedroom interiors appear stylish. Moreover, it will allow you to create a beautiful accent wall as well. Make sure you choose a colour that complements its grandeur feel.