Types rugs To begin, we categorize rugs into two parts.
Pillow rugs
Rugs without a pile
Pile rugs can be machine-made or handwoven. These rugs are made with a pile that determines the carpet's thickness. The rug's construction is what gives them the depth pile. You can either tie the knots manually or use a machine to weave with a power loom. Pile rugs are rugs with a thick pile.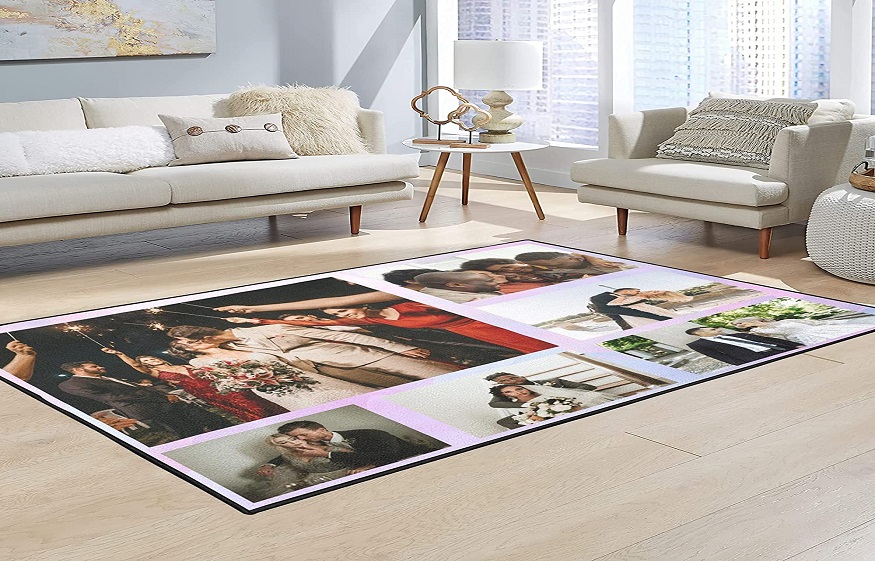 There are both machine-made and hand-made rugs within this category.
Let's take a look at some different types of area rugs.
Hand-Knotted Rugs
Hand-knotted Area Rugs These are hand-woven rugs made with the finest quality wool and silk fibers. KPSI stands for thousands of knots that are layered on top of each other to create intricate designs. Hand-knotted wool rugs have been called the most luxurious and royally-like rugs.
A single piece of average rug size may take several months to weave by hand.
Hand-knotted Persian rugs are an excellent investment and become more valuable over time. They become more valuable the older they are. They are expensive because of the time required, physical effort, and scarcity of laborers needed to make them.
Its beauty is enhanced by the fact that hand-knotted rugs are not identical. Why? They are hand-knotted and not machine-made. Hand-knotted rugs, on the other hand, are made by 'human hands.
Oriental custom logo rugs are among the most expensive types of rugs. There are many varieties of Indian oriental rugs. They are made from both hand-made and machine-made materials. Visit the rug shop to see the original silk one and handpick it.
Helpful Tip
Do not pull any fibers that are visible on the rug's surface. It can cause damage to the carpet. Instead, use a pair of scissors to cut the thread. Every hand-knotted rug has the same problem: a thread can be pulled out.
Hand-Tufted Rugs
Tufted carpets are made by using a small tool, such as a "tufting gun", to punch strands of wool or silk on a cloth canvas stretched over a metal frame. At first glance, tufted carpets can look like hand-knotted carpets. Look at the back to see the difference between tufted and hand-knotted carpets. Tufted rugs are not like a hand-knotted area rug. They have a white latex canvas back without any trace of wool knots.
To keep wool glued together, latex is applied to the back of tufted rugs.
These are affordable, stylish, and budget-friendly wool pile rugs. These rugs look great in any interior. These are ideal for high-traffic areas such as halls, living rooms, and other public spaces.
Tip: Tufted rugs shed. You can reduce the amount of shedding by vacuuming regularly. These rugs are made with a pile. This means that the rug's location and how much foot traffic it receives can have an impact on the amount of shedding.
Durability
These rugs can last for up to five to ten years. The quality of the carpet and the material used to make it are key factors in determining the rug's durability.
Cleaning
Vacuum tufted rugs are preferred to water-wash rugs. This is due to the latex on the canvas which can cause the wool to become loose.
Flat weave Rugs
They are hand-knotted but will be made on a loom. Interweaving weft and warp threads are the methods of weaving. This weaving technique makes the rug extremely thin and exquisite.
In most cases, the design patterns on the two sides of the carpet look the same. You can use both sides of the flat-weave rug as needed.
These rugs are affordable and cost-effective. These rugs are very popular for flooring in bathrooms and kitchens.
A flat weave rug is made from wool, which is the main material. Flat weaves usually use wool as the warps or wefts. The weft material for cotton warps is wool. Art silk is another material that can be used in place of wool.
Useful Tip
Flat-woven area rugs have a thin profile, so it is important to place a rug pad on the bottom. A rug pad will prevent the carpet from shifting from its original spot.
The Difference Between Flat weave And Kilim Rugs
There is no fundamental difference between flat weave, rug, kilim, or rug dhurrie. It is just the names. It is sometimes called kilim by rug importers, the word referring to the tribal side.
Handloom Rugs
Handloom Carpets can be hand-knotted in three styles. This is the alteration of wefts and knots. The knots are wrapped around the warps. Handloom carpets can be one of the most economical types of rug. They are easy to clean and maintain.