How Did boAt Become The No. 1 Brand In India's Electronic Wearable Market?
When boAt was launched in 2016 as a wearable brand in India, no one knew how successful the brand would be in the future. The company started as a bootstrap with a capital of Rs. 3000000 Lakhs raised from its founders. Not only has boAt replaced all the Chinese wearable products from the Indian market, but it has also given full head-to-head competition to its competitors like Zebronics, Portonics, Noise, etc., and today, it has become the #1 brand in the Indian electronic wearable market. boAt came into existence to bridge the gap between Indians and premium brands of audio products by making them available at pocket-friendly rates.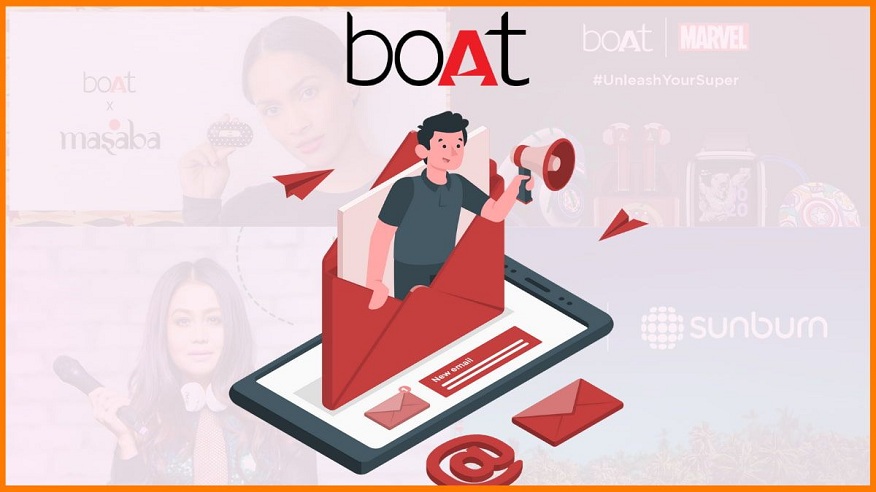 The company's robust performance in the wearable industry has also captured investors' eyes towards its unlisted shares. Now, boAt is the unlisted company that will soon launch its IPO, significantly impacting the boAt share price. Let's talk about boAt and how it has become the no. 1 brand in India. 
Overview Of boAt
Founded in 2016 by Aman Gupta and Sameer Mehta, boAt is a consumer electronic brand in India. The company sells electronic devices like earbuds (AirPods), wireless speakers, wired and wireless earphones and headphones, quality touch cables, home audio equipment, and various other technological accessories. Recently, boAt launched a smart ring that monitors heart rate, body temperature, and sleep. boAt was established to offer millennials and Gen Z affordable, durable, and fashionable audio accessories. 
Just like any other startup, boAt had a humble beginning. It started as a capable producer and marketer and expanded its product portfolio. In 2020, the company expanded its product categories to serve over 80,000 customers across India. 
Journey Towards Becoming 1st Brand In India…
In January 2023, Aman Gupta, founder of boAt, talked about the company's Make in India journey on Shark Tank In India. He said that boAt has become the first brand in India to manufacture more than 1 crore wearable products in one year. "Today, with #HumBheeBanaLenge spirit, we take great pride in being the first Indian brand to manufacture over 1 crore wearables products in one year. It is a great honour for us to be able to give back in whatever small way we can to our wonderful nation," he added. 
As per the report published by International Data Corporation (IDC), boAt maintains the #1 position in the Indian Wearable Market with a 25% market share. The company has grown by 102.4% YoY. The company's smartwatch category accounted for 28.3% of its shipments in 1Q23. In the segment of TWS (Truly Wireless Earbuds), the company continued to lead this segment as well, with a 30.6% share, surging by 89.9 YoY. 
With its flabbergasting performance in the wearable market in India, boAt left behind many big brands like Fire-Boltt, which stood second with 12.4 % market share, and Nexxbase (Noise) with 11.9% market share. The rage for wearable electronic items among people in India has grown in recent years. Thus, the digital economy in India is projected to reach US$800 billion by 2030, from US$85-90 million in 2020. This is due to increased online purchasing of products in India. 
Future Outlook Of boAt And Its Unlisted Shares 
The company's performance since inception has been great and earned high revenue in the past few years. Now that the company has become the #1 wearable brand in India, there has been a significant impact recorded on its unlisted share prices. About six months ago, boAt unlisted shares were available at Rs. 800 and now are trading at Rs. 920 per equity share. It is true that as the company grows in the future, it will positively impact its unlisted shares as well. 
Talking about its IPO, boAt filed a DRHP with SEBI on 26 January 2022 for an IPO of Rs. 2000 Cr. This offer consists of Rs. 900 Cr. fresh issue of equity shares and an offer for sale amounting to Rs. 1,100 Cr. Once the company goes public, it will surely increase boAt share price in the market. Also, through its pre-IPO placement, the company wants to raise Rs. 180 Cr. 
Should You Invest In boAt Unlisted Shares? 
As a retail investor, if you're searching for the best stock broking platform in India, Stockify is your go-to option. Being India's online stock broking platform, Stockify helps retail investors buy and sell unlisted shares of top pre-IPO companies in India. The expert brokers at Stockify will give you every information about the company, like EBITDA, EPS Growth, Profit and Loss statement, balance sheet, and other key indicator factors to help you make an informed decision. So, what are you waiting for? Invest in boAt pre-IPO shares with Stockify.