Unique & Affordable Housewarming Gift Ideas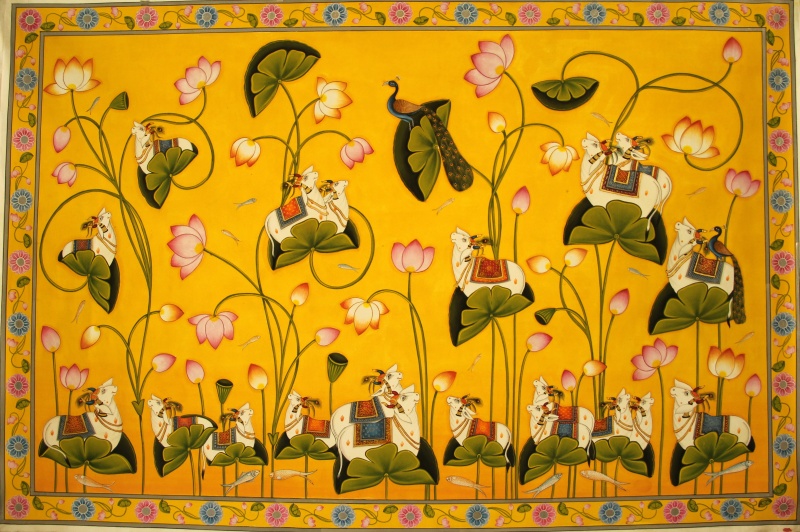 Are you looking for stunning housewarming gift ideas that are affordable too? If yes, this post can help you!
The housewarming ceremony is a great occasion for the new home owners. They look for amazing artifacts to decorate their new house. Their purpose is to make their place look lavish and feel positive. Therefore, you as their closed friend or relative should get a unique housewarming gift for them.
Paintings: Unique & Affordable Housewarming Gift Idea
When it comes to gifting on the occasion of housewarming event, paintings are the best choice. They look unique owing to the extensive range and come at reasonable rates allowing you to afford easily. They can alter the ambiance of any place in seconds.
Here are some painting styles that are just appropriate for housewarming gifting purpose.
1. Gond Paintings
Gond painting is one of the famous gift options for housewarming occasions. This is a traditional folk art style used by Gond tribe in Madhya Pradesh, India. The Gond tribal people believed that drawing pictures of natural elements like trees, animals, landscapes, etc. along with Hindu mythology is auspicious for homes.
These paintings are highly significant to bring good vibes to any home. Thus, you can get it as a gift for your closed ones and give your best wishes for a new home to them. They will be happy to get such a positive and unique art piece.
2. Kalighat Paintings
Kalighat paintings are also a good choice for housewarming gifting. This art style belongs to West Bengal, India. It focuses on Hindu mythology and Gods to bring positivity, good luck, and happiness to the home.
When you gift this painting to someone, good vibes will be generated in their space. They will thank you for such a nice gift. The blessings of Goddess Kali and Goddess Durga will eradicate all their problems and negativity. You can find Kalighat artwork easily online at an affordable price so there's no excuse for not buying it!
3. Abstract Minimal Paintings
Abstract painting is a modern art style that is both unique and affordable. If you don't have any idea about the likings and disliking for the receiver, you can blindly get an abstract minimal painting for them. The colors and patterns are used in a unique style to make every painting a masterpiece. At first, these artworks are not understandable still they look beautiful!
These paintings enjoy high market demand owing to their beauty and inexpensiveness. So, get your hands on the best housewarming gift for your loved ones today!
4. Pichwai Paintings
Pichwai painting is a unique and 400 years old painting style that is still famous amongst people. On the housewarming day of your friends and relatives, you can give your blessings to them by gifting a divine Srinathji's artwork.  It will turn their home into a peaceful place as soon as they put it on the wall. This affordable painting will surely take away the receiver's heart with its charm.
Earlier, these paintings were hanged in temples as backdrops to improve the look of the holy place. However, these paintings have now got a modern touch due to which more and more people love to get it for their homes.
5. Floral Paintings
When you are invited to any housewarming ceremony, a bouquet of flowers is commonly the first choice for gifting. However, flowers will die after a day or so, which is of no use to the receiver. Therefore, you can go for floral paintings as a gift. Isn't a great choice over real flowers? A floral painting will look beautiful even after years. They can put it in their bedroom, living room, kitchen, or even kids' room. It will be useful to them.
They come at affordable prices and in multiple varieties. From roses to sunflowers & lilies, the range is super wide. You can pick any one!
Final Words
All these housewarming gift ideas are both budget-friendly as well as unique. The super-exclusive range will impress you and give you options to choose from. You can shop for these paintings online from different e-commerce platforms.
Share your thoughts about these unique and affordable gift ideas for housewarming occasion.